You keep getting styling primers which weigh your hair down, leaving it dull and simply… ugly? If you want a professional cosmetic, then you're gonna love Nanoil Hair Styling Spray. Feel like a pro and create the most stunning hairstyles at home. Learn how to do that!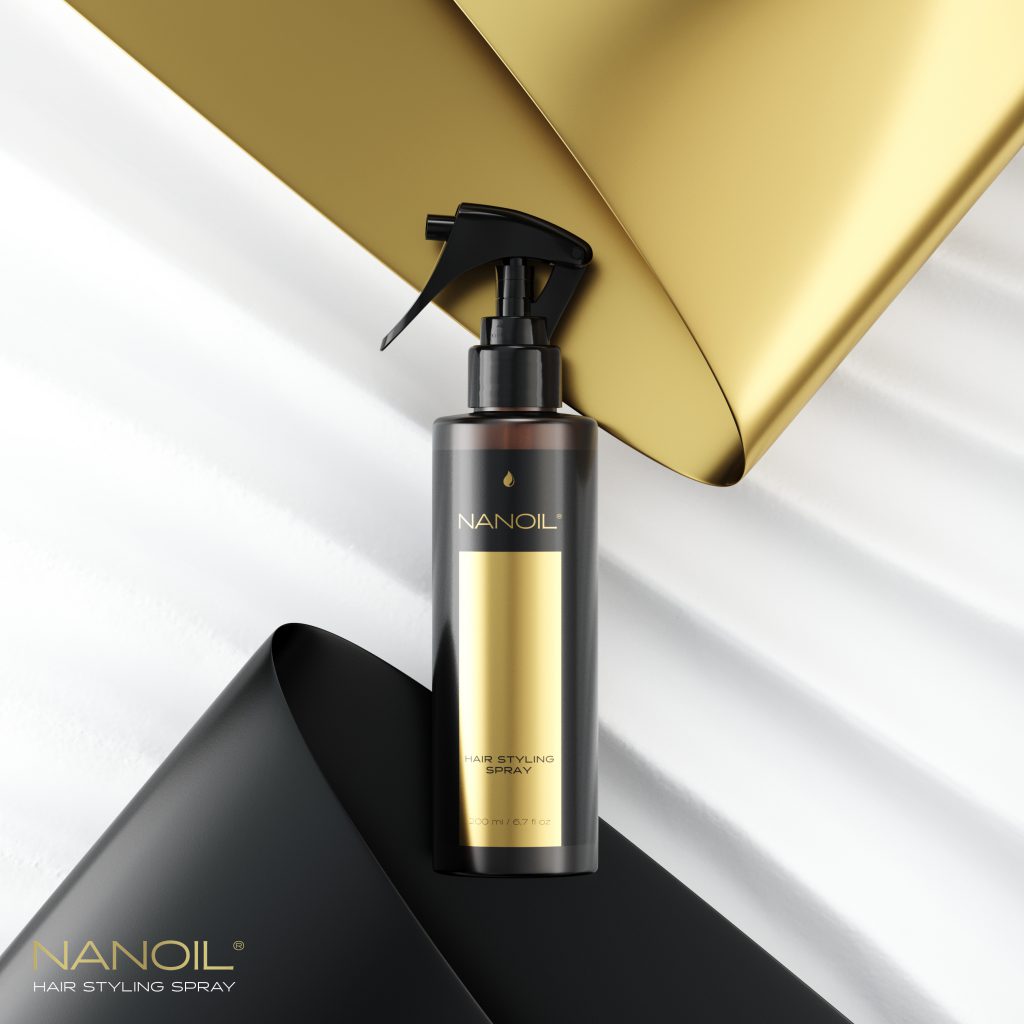 ---
Professional Hair Care
There are many things which cause damage to the hair – your dryer's hot airstream, red-hot flat iron, curling wand, but also cold weather, heat or chilly wind. To make things worse, we often damage the hair by choosing the wrong hair products. We don't read the INCI list and then end up with cosmetics containing harmful alcohols and unnecessary ingredients which cause dryness and take healthy shine away. Remember to choose the right products for your hair type – this applies to pre-stylers too.
Care for your hair with Nanoil
Do you love to dazzle people around with wonderful hair volume but your strands are naturally very hard to style? Once you manage to create the dream style, it lasts for a few hours tops? You can change that now. Avoid primers which overburden the hair, and pick Nanoil Hair Styling Spray – designed for making the hair look its best. This product will help you style the hair and hold it in place, keeping it beautiful and shiny. Spray it on before styling to make the hair softer, smoother and easier to manage. Use the product again for hold. Doing the hair doesn't need to be time-consuming and difficult. With Nanoil's spray, it's effortless.
Revolution on the cosmetic market
Nanoil Hair Styling Spray is an exceptional styling primer thanks to added nutrients which care for the hair:
panthenol (vitamin B5) – maintains optimal hydration levels, repairs and nourishes the hair, keeping it shiny and resilient,
castor oil – known for ages; it nourishes the hair, prevents loss of water, and protects from external conditions.
Wyświetl ten post na Instagramie

The product doesn't hold any synthetic overburdening substances. Each ingredient has been chosen carefully to make sure the hair is well taken care of. Nanoil Hair Styling Spray adds manageability to hair, but also works as a hair spray which has super hold without leaving the strands sticky or stiff. You can remove it easily (brush it out). It's good for every type of hair and gets the best ratings from users. Nanoil Hair Styling Spray is suitable for low and high porosity hair. No matter if you have short, long, wavy, straight, natural or colored hair, this primer won't weigh it down because it's featherlight and free from thick oils.
You can buy Nanoil's products on the official site www.nanoil us – get all info on the ingredients, effects, purpose and prices. Check out Nanoil's great cosmetics now!
---