Fine hair that lacks volume? Or maybe thick hair that looks limp? Adding more volume to hair can be a real pain in the neck. Luckily, we know some tricks that can help you change that. Curious what they are?
---
There are two ways which you can consider trying out if you want to create voluminous styles at home. First, you may focus on special styling techniques. The other way involves finding quality volume enhancers for hair. Today we're going to present to you ideas on both.
Special styling techniques for voluminous hairdos
1 STYLING TECHNIQUE Get the right haircut. If your hair is fine, avoid layering. Your hair will look thicker and fuller when the strands have the same length. Shoulder-length styles or a bob should work perfectly.
2 STYLING TECHNIQUE Change the side of your parting. This is a clever trick that brings you closer to achieving your goal, which is a fuller-looking hairdo. Introducing this small change brings surprisingly good results, and the best bit is that you don't have to spend a dime to make use of it!
3 STYLING TECHNIQUE Big rollers and controlled chaos. This technique helps you create voluminous curls without spending much time in the bathroom. Roll your damp strands on the rollers and go to sleep. In the morning, take the rollers off gently and run the fingers along the curls. Mind-blowing volume boost guaranteed.
4 STYLING TECHNIQUE Go for weightless volume-boosting sprays. Naturally, you may try using mousses and hairsprays but they are infamous for causing dryness in hair. It's way better to replace them with a volume-boosting lotion that isn't only lightweight but also formulated with nutrients.
5 STYLING TECHNIQUE Attach a diffuser to your blow dryer. With this tool you create voluminous locks and blowouts in seconds. Before putting the diffuser to your hair, apply a volume-boosting spray for even more dramatic results.
6 STYLING TECHNIQUE Blowdry your hair upside down. This time again, before switching on the blowdryer, spray the hair with a volume-boosting product.
7 STYLING TECHNIQUE Apply keratin. Not without a reason some call keratin "liquid hair". This protein adds more body to the hair, leaving it thicker and stronger.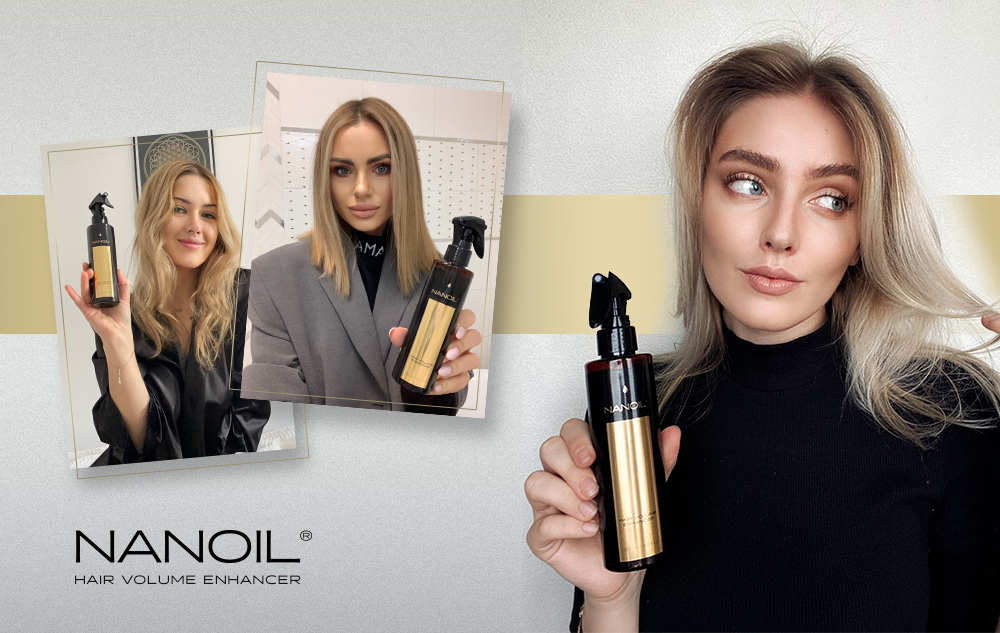 "If you're looking for top quality keratin-rich products, check out Nanoil's offer where you can find Hair Volume Enhancer, Keratin Hair Mask and Keratin Hair Conditioner. You can find them on nanoil.us.
Special product for voluminous hairdos: Nanoil Hair Volume Enhancer
Nanoil Hair Volume Enhancer is one of those volume-boosters that delivers instant results. You don't need to wait a few weeks to notice your hair getting fluffier and thicker. This effect is created after single use! What exactly are all the benefits that this spray has for you?
It pulls the roots upwards, creating instant volume.
The non-greasy formula suits all types of hair.
It's enriched with keratin, panthenol and wheat proteins.
Nanoil Hair Volume Enhancer is easy to use.
This styling spray protects the hair from external aggressors.
It creates natural-looking styles that last all day.
This product is great value for money

It's surprising how many benefits are hidden in just one product. Spray your hair with Nanoil Hair Volume Enhancer to see how voluminous and fluffy your mane can be!
---