Skin care should not be limited only to the face. Dream of a firm and smooth body? We have the solution! The rich body cream with Maltese honey from Ghasel can make this dream come true! Discover its excellent benefits!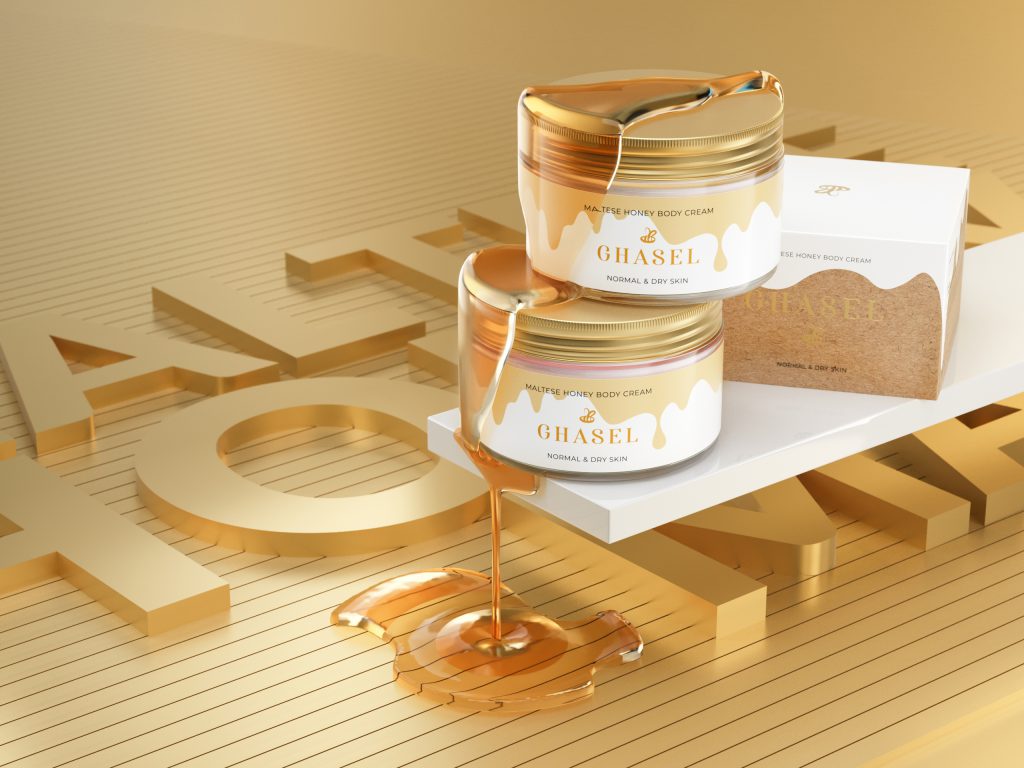 What's the key to a good body cream?
A good body cream should be free of any synthetic fragrances, parabens, GMOs or heavy silicones. The most important thing is to make sure it contains natural skin-beneficial ingredients and a good formula, designed to serve you best. If you're looking for the perfect body care product, you should pay attention to unique ingredients, valued for centuries and proven in skin care. Honey is one of them. It's rich in vitamins and bio-elements, strongly nourishes, soothes, moisturizes and regenerates the skin. Have you already heard about the unique and precious Maltese honey? It's one of the best and oldest kinds of honey in the world. Today you can experience its nourishing effects, as it's the prime ingredient of GHASEL Body Cream.
Ghasel – moisturizing body cream with Maltese honey
You must feel the effect of this nourishing and smoothing body cream on your skin! It conditions the skin, has a rich formula and velvety texture that makes application a pure pleasure! Plus, it has great ingredients and delivers spectacular results. How can you resist it?
Maltese Honey Body Cream – ingredients
Maltese honey is the main ingredient of Ghasel body cream – it nourishes and moisturizes the skin perfectly. In addition, it soothes irritation and promotes skin regeneration, improving its suppleness. Vitamins B12 and E smooth the skin and neutralize free radicals. Avocado oil and shea butter are rich in valuable EFAs (Essential Unsaturated Fatty Acids). They provide regenerative, rejuvenating and smoothing properties. Oils prevent moisture and maintain an excellent level of skin hydration. Horse chestnut extract is a cocktail of saponins, flavonoids, coumarins, vitamins and mineral salts. They promote proper skin regeneration, soothe and have anti-inflammatory properties while strengthening blood vessels. Calendula extract eliminates dry skin and smooths it perfectly. Ghasel Body Cream also contains which improves skin hydration and maintains the proper level of hyaluronic acid. It leaves your skin soft and pleasant to the touch.
Ghasel moisturizing body cream – effects and benefits
The refined formula provides it with various skin-beneficial effects! It brings relief to rough and dry skin. Maltese Honey Body Cream perfectly smooths and moisturizes and ensures long-lasting hydration for your skin. It conditions the skin, restoring its elasticity, suppleness and resilience. Its gentle formula makes the application a pleasant moment of relaxation. Its exceptional properties and excellent formula made this Maltese honey body cream one of the most valued body care products by women around the world!
Find more information about the effects and ingredients of Ghasel on the website ghasel.mt