Is your skin couperose? Then you know it too well how hard it is to soothe and balance skin that can't handle various completely harmless triggers like hot drinks or cold weather. Luckily, Nanoil brand and its latest offering come forward with help. What offering? A face serum for redness, Nanoil Anti-Redness Face Serum.
If you're standing in front of shop shelves bending under the weight of creams, serums and emulsions that in theory are supposed to bring relief to irritated skin, but you have no idea what to choose, better go for proven solutions. Nanoil Anti-Redness Face Serum is a skincare product that women all over the globe fell in love with.
Nanoil face serum
Nanoil Anti-Redness Face Serum is one out of six face serums that Nanoil has in its regular offer. The offer includes a serum for dry skin (hyaluronic acid face serum), a serum for pigmentation spots (serum with vitamin C or retinol), as well as a serum for problematic skin. When it comes to the serum for sensitive and couperose skin, Nanoil aimed at high efficiency and gentle action.
Nanoil Anti-Redness Face Serum
There are a few things you should know about the new Nanoil face serum. Firstly, it was developed in cooperation with specialists, which means that the cosmetic is able to solve specific skin concerns. In the case of reactive skin, these are dilated capillaries, facial redness and irritation. Secondly, Nanoil serum is super lightweight and fast-absorbing. This was combined to offer you the finest, gentle and effortless sensitive skin care.
Best ingredients for reactive skin
What will you find in the serum? Nanoil Anti-Redness Face Serum is a blend of plant extracts enriched with moisturizers and nutrients, such as glycerin and vitamin B3. The naturally-derived ingredients are really incredible.
Punarnava is an Indian plant proven to have an anti-oxidative effect on skin. This extract can be found in all Nanoil face serums.
Chestnut bark has a positive effect on blood vessels by making them stronger, and thus preventing breakage.
Lime tree bark is responsible for delivering the soothing effect of the serum. Apart from that, it nourishes and prevents inflammation.
Cypress, or rather the cone extract, replenishes skin with more nutrients and moisture, as well as protects from irritation.
One serum, numerous effects
To see the improvement, you just need to use Nanoil Anti-Redness Face Serum regularly. The good news is that the improvement doesn't apply only to the appearance, but to the actual condition of the skin too. Nanoil serum is the only such multi-tasker able to even skin tone, reduce facial redness, eliminate spider veins and combat new blemishes. The effects can be seen right after the first use because Nanoil serum for reactive skin soothes irritation, reduces tension and discomfort that is typical of skin that reacts strongly to external factors. You just need to feel this relief on your skin.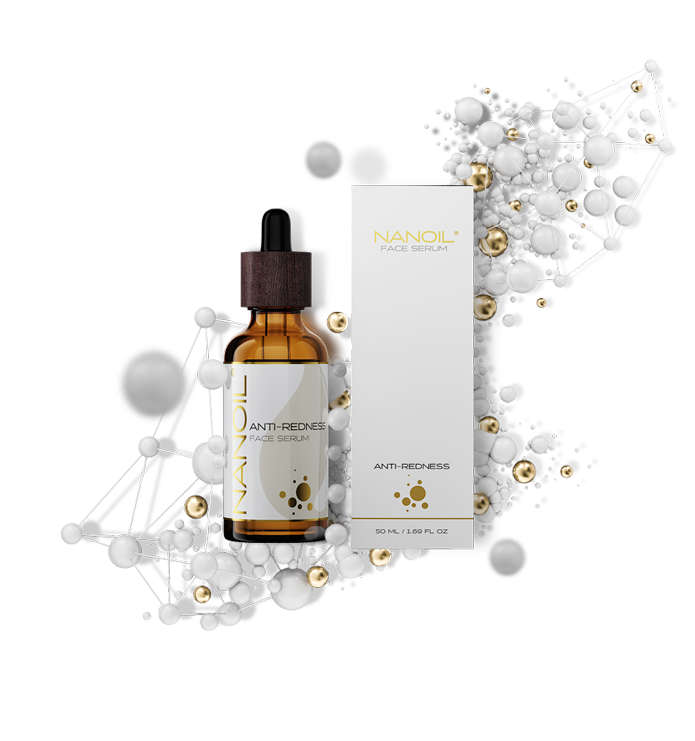 How to use Nanoil serum correctly
If you decide to buy Nanoil serum, you don't have to worry about a troublesome application method. All you have to do is cleanse the face, dry it with a towel and put on the serum. A daily application suffices completely (evening application is recommended). You can spread the serum using either your fingertips or a facial roller, e.g. jade roller that will boost the soothing effect of the serum.