Are you aware of the fact that temperatures higher than 120°F/50°C cause damage to your hair? Indeed, even long sun exposure deprives your strands of water, which significantly reduces the moisture levels, leading to brittleness and dullness. If you're not happy with that, you need to act now – you need to provide your hair with adequate heat damage protection.
---
How can you do that? Simply by using just one product, whose task is to create a protective coating on the hair, isolating it from the high temperatures produced by heat styling tools. One of such products, which in fact is a top-rated one, is Nanoil Heat Protectant Spray. Today we're going to present to you 10 reasons why you'll fall in love with it.
10 benefits of Nanoil Heat Protectant Spray
BENEFIT 1 This product keeps your hair safe and healthy, even if you style it using a tool heated up to 440°F/220°C. That's why you can use a flat iron and curling tongs to create fabulous style, avoiding brittleness and splitting ends.

BENEFIT 2

Nanoil Heat Protectant Spray also offers sun/UV protection. Dry air, which is the consequence of using an air conditioner, is not good for your hair either. However, with this product you will easily maintain the hydration in your strands. This means that you can use this spray all year.

BENEFIT 3

Do you have problems with frizz? Grab Nanoil spray to deal with this problem. The protective coating makes hair indifferent to high air humidity, thus keeping the hair stay straight for the entire day.
BENEFIT 4

The formula is lightweight and non-greasy, which isn't a common thing when it comes to heat protectants. Thanks to this, you can use Nanoil on all types of hair without bothering that it may reduce the volume of your style, or leave you with limp and stringy strands.

BENEFIT 5

This is one of the easiest hair care products you've ever had the opportunity to use. To create the heat damage protection, you just need to apply a few sprays on the hair after shampooing. Yep, that's all.

BENEFIT 6

Unlike most products of this type, Nanoil Heat Protectant Spray also promotes better-looking hair. Formulated with top-quality liquid silk, Nanoil protectant traps water inside the hair, reducing the risk of brittleness. It also promotes smoothness and shine, making your hair look healthier.

BENEFIT 7

With this Nanoil spray you will also increase your hair's elasticity. This basically means that you will take control over the unruly and brittle hair. Easily manageable, the strands will stay in place for the entire day, no matter the style you create.

BENEFIT 8

Nanoil Heat Protectant Spray makes it easier for you to brush your hair. Since the comb glides smoothly along the tresses, it won't cause breakage. Bye-bye tangles!

BENEFIT 9

Even though this issue is subjective, most users say that the scent left on their hair by Nanoil spray is incredible. It's not intensive so it won't compete with your perfumes.

BENEFIT 10

Lastly, one bottle of Nanoil Heat Protectant Spray lasts really long. This means that you don't need to repurchase it every month, which saves you money.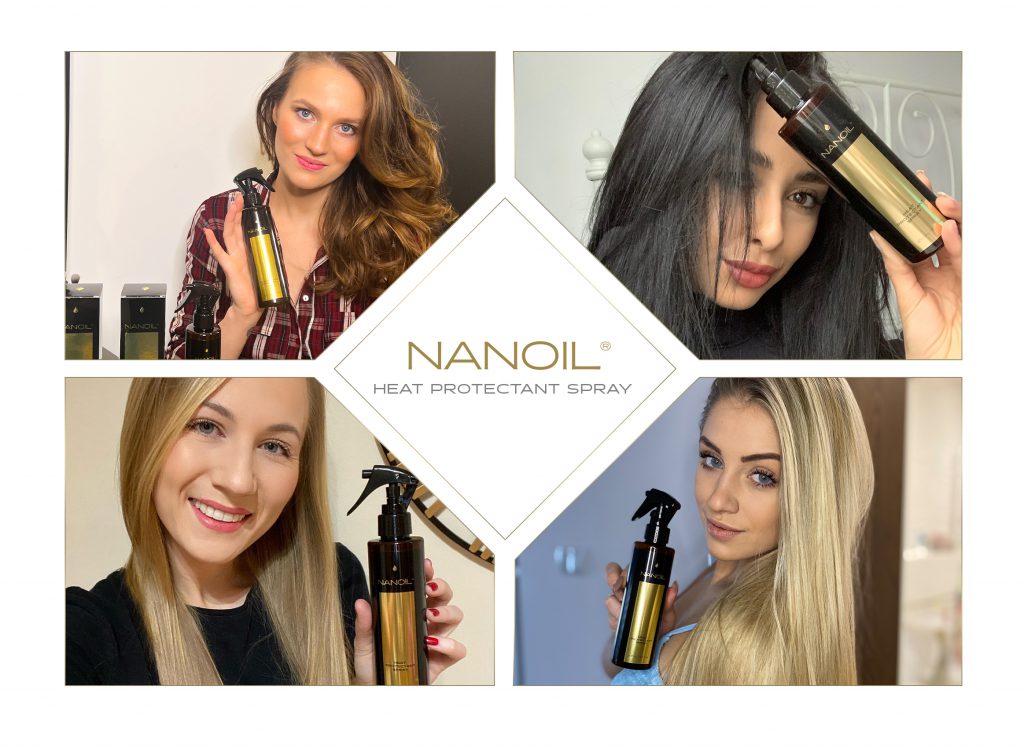 It's pretty impressive how many benefits just one product may have for your hair. If you think it may be good for your strands, go to nanoil.us. We also suggest taking a look at other Nanoil products, such as hair masks, single-ingredient plant-based oils and micellar shampoos.
---